3x Business System Analyst – Sunderland – Permanent – £35,000-50,000 p.a. + Benefits
You'll be responsible for understanding internal requirements and business needs along with the current business applications. This will allow you to help agree the application strategies and roadmaps for the next 3-5 years, and the portfolios to deliver them across the regional business functions.
On top of this you'll aid design, delivery and support of new solutions driving business efficiency. You'll propose and investigate new technologies to improve the regions manufacturing process, launch necessary projects to support agreed strategy and act as the link between business, software and service delivery teams.
What you'll bring:
Experience in enterprise business systems development and an understanding of the system development life cycle in large organisations. This includes skills in requirements gathering, analysis and technologies.
An interest in technology trends and systems development would be beneficial as a part of your role will be to investigate these.
Being capable of translating business requirements into application design will help you as well.
Experience in Supply Chain, Logistics, manufacturing, Automotive, Engineering or FMCG would be required to help you to understand the business you will be joining.
Due to the nature of the organisation travel will be required across the UK and Europe. What you will get in return is a salary of between £35,000-50,000 p.a. plus benefits. You'll be apart of a critical department that is the key driver in the organisation reaching their goals by 2020, they are increasing their investment in technology and systems to do help achieve this.
There are a number of positions available from junior to senior with opportunities to progress your career and to work internationally. The global organisation has many stories of people starting their careers with them as an apprentice and worked their way to Director level, therefore, they support a culture of internal promotions.
Interested? Then please contact Peter Ockwell on the details above, alternatively click apply.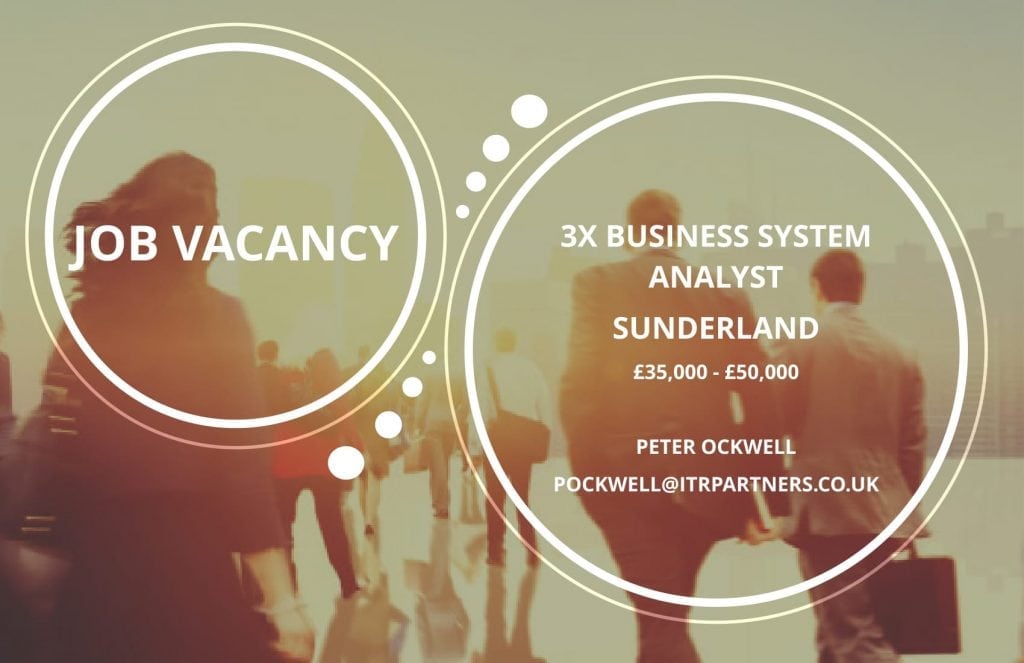 Country:United Kingdom
Location: Sunderland
Job Type: Permanent
Industries: IT & Telecommunications, Manufacturing
Reference: JSSUNBA/PO
Start Date: ASAP
Rate/Salary: £35k-50k per annum + benefits
Visa Requirement: Applicants must be eligible to work in the specified location