Full Stack Java Developers – All Levels – Java, Spring, JavaScript, HTML, CSS, Rest, Jenkins, Agile
Are you someone who enjoys working on the full end to end process of development projects?
Have you thought about starting a career within the banking industry?
Do you enjoy challenging yourself and have a keen desire to learn new technologies?
If this sounds like you, I have your perfect opportunity!
A world leading banking group are going through a digital transformation and are looking to expand a number of the development teams across the business.
As part of their digital transformation they are moving to a Mircoservices architecture and into a DevOps environment. They are also looking to move their services to the AWS cloud platform in the very near future to complete their digital transformation.
To support their ongoing growth and digital transformation they are looking for Java Software engineers of all levels to join them in their office based in the heart of Milton Keynes. You will need to have a good fundamental understanding of Java Back End development as well as being familiar with Front End tools such as HTML, CSS, JavaScript, Angular and JQuery.
Technologies you can expect to be working with:
• Java/JEE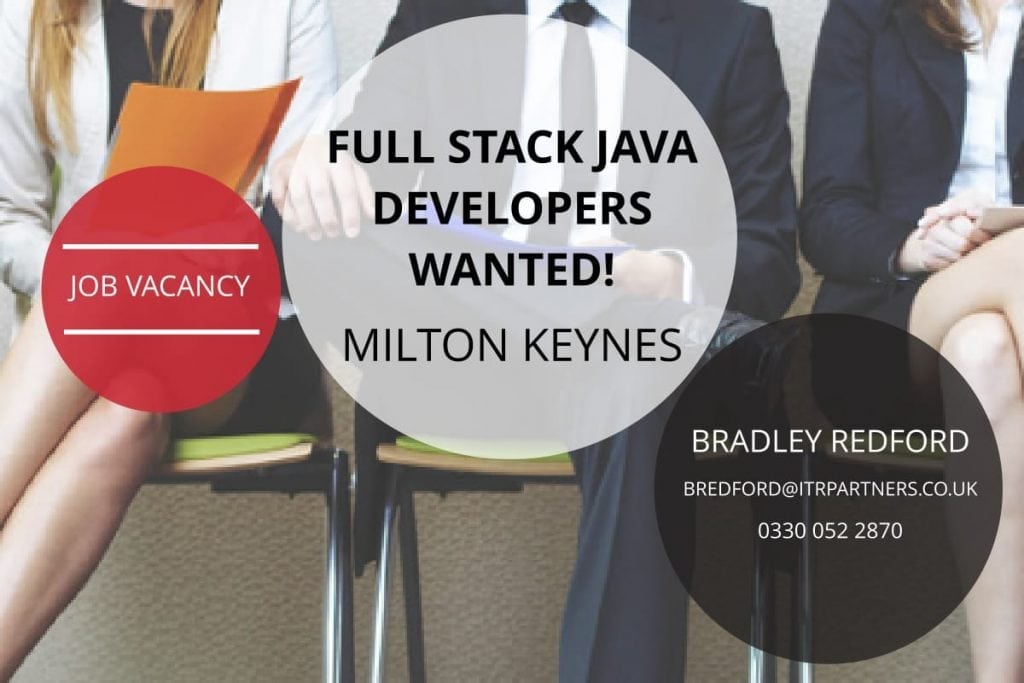 • Spring, Hibernate
• HTML, CSS, JavaScript, Angular, JQuery
• SQL, NoSQL
• RestAPI's
• Maven, Jenkins, Eclipse, Intellij
• Jira, Confluence, Nexus
• Gitlab, Sonar
• Docker, OpenShift
• TDD, Junit, Mockito
• AWS
You do not need to be an expert with all the above technologies, but the more you have experience with the better. Training and development will be provided if you have the desire and willingness to learn.
Interested in hearing more?
Please hit apply and I will be in touch with more information. Alternatively feel free to give me call or drop me an email to find out more – 0330 052 2870 OR bredford@itrpartners.co.uk
There are multiple positions of all levels available for a variety of different teams
Competitive Salary + 12-15% bonus + benefits
Full Stack Java Developers – All Levels – Java, Spring, JavaScript, HTML, CSS, Rest, Jenkins, Agile
Contact the job poster