Fullstack Javascript Developer – NodeJs, MongoDB, AngularJS, ExpressJS, JSON, Saas
Are you a talented and driven Fullstack Javascript Developer?
Or even an experience NodeJS Developer?
If so this is your chance to be part of an exciting growing organisation who are changing the way companies communicate with their employees and even how coworkers communicate with each other.
Due to a successful new release of their latest product and continued growth of the business a game changing stage B startup are looking for Fullstack Javascript Developers or NodeJS developers to join them and help take the product to a new level by constantly add new features.
You will be joining a truly talented agile development team and will always be working on innovative new features to help establish a truly customisable SaaS product.
The product is a mobile application along with a Desktop management console too, so any experience with native/responsive mobile applications is greatly appreciated.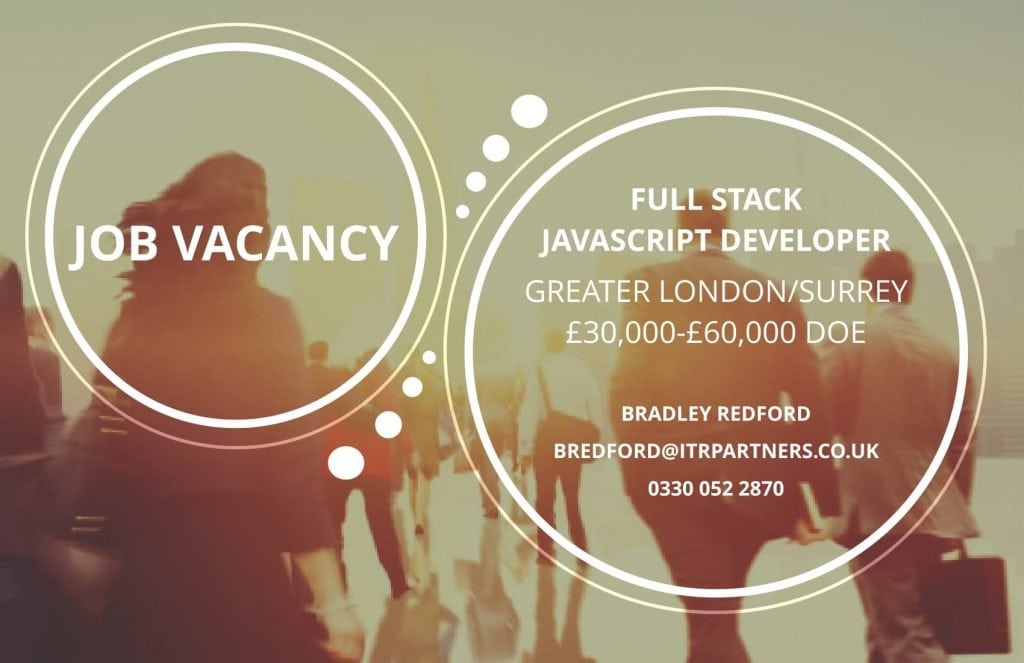 You can expect to be working with technologies such as:
Javascript and its libraries such as AngularJS/React
NodeJS
MongoDB
ExpressJS
JSON REST APIs
NPM/Bower/Gulp
Git
If you are a NodeJS developer who is looking to become more of a fullstack developer this is a great opportunity to up skill yourself. You do not need to be a master of all the above technologies, but the more exposure you have with them the better.  However having knowledge and some exposure to NodeJS is important.
Interested in hearing more? 
Please hit apply and I will be in touch with more information. Alternatively, please feel free to call Bradley on 0330 052 2870 if you have any urgent queries. 
There are opportunities for Developers of all levels of experience. 
This is a permanent opportunity based in Greater London/Surrey.
Salary: £30,000 – £60,000 (depending on experience)