Java Developer – North Yorkshire – Java, J2EE, XML, Oracle, Spring, Hibernate, Agile, Scrum, TDD
Are you bored of the busy hustle and bustle of the big cities? Are you fed up of having people's armpits in your face every morning on the tube, tram or bus…Tired of paying extortionate prices for your morning coffee or your after-work beer/glass of wine?
However, you still want to be part of one of the most successful banking and payments organisations in the world?
Well if you are an experienced Java Developer and you have previous experience working in an agile environment, this is your opportunity to join a highly talented team within banking and payments company who always strive for greatness.
As a result of constant growth and development they are looking for another Java development professional to join one of their most talented development teams.
You will work with some of the latest technologies within an agile (scrum) environment to produce top quality code. You will be responsible for translating requirements into solutions, whilst following the agreed designs and ensuring a quality service is delivered into test and production environments. You will be working on high performance, mission critical Java based applications which are created to support card transaction services.
Some of the technologies you can expect to be using are:
Java 8, J2EE
Spring, Hibernate
Oracle 10g+, PL/SQL
Maven, Git, Jenkins, Jira, SVN
UML, XML, EJB, Ajax
Weblogic, Web services
This is a fantastic opportunity for an experienced Java Developer who is looking for a new challenge and wanting to push their career forward. You will join a business who will always look to progress their employees career and they also offer one of the strongest benefits and bonus packages in the market.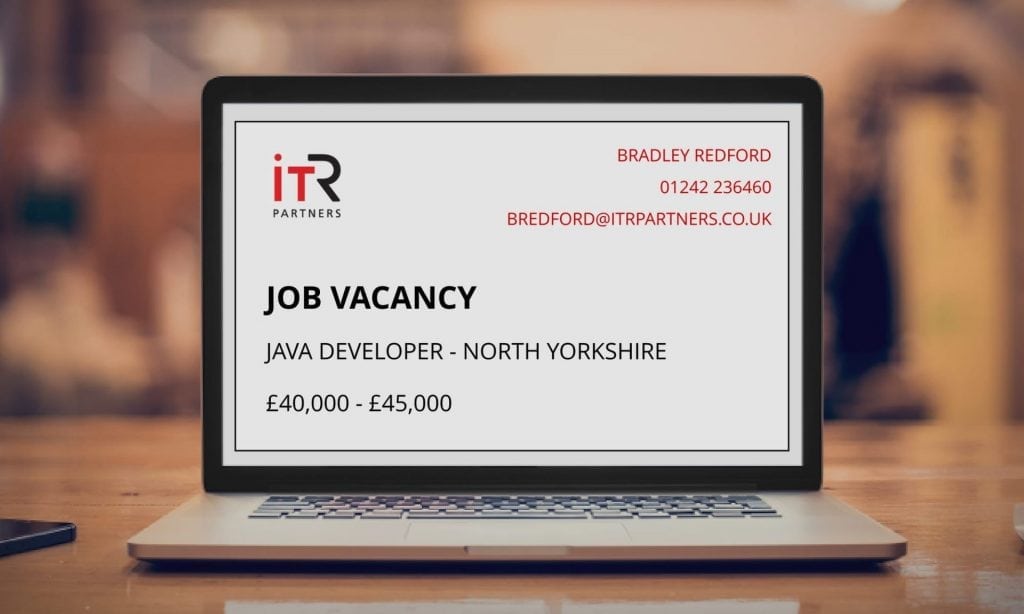 Interested?
Please hit apply and I will be in touch as soon as possible. If you have any questions or would like to know more, feel free to call me any time on 0330 052 2870 or drop me an email to bredfordford@itrpartners.co.uk
This is a permanent opportunity based in North Yorkshire.
Salary available between £40,000-£45,000 + Benefits + Bonus (12-15% minimum)
Java Developer – North Yorkshire – Java, J2EE, XML, Oracle, Spring, Hibernate, Agile, Scrum, TDD