Senior Java/Go Backend Software Engineer – Zurich/Remote – Permanent & Contract 
This is a truly amazing opportunity to be part of the next generation financial services mobile application.
The application is already one of the top financial services applications in Germany and is now in the process of taking over the UK market before reaching out to the rest of the world.
As a result of their expansion and they are looking for multiple BackEnd development professionals to join them and work on a brand new project to take the application to the next level.
The objective of the project is to take an established micro services architecture to new heights.
You will be responsible add new technical capabilities such as event based functionality to the platform, as well as reengineer existing services to take advantages of brand new capabilities.
You will also be working on cutting edge technologies such as Kafka and Cassandra, high volume distributed system using micro services written in GO and Java, and SQL and noSQL storages.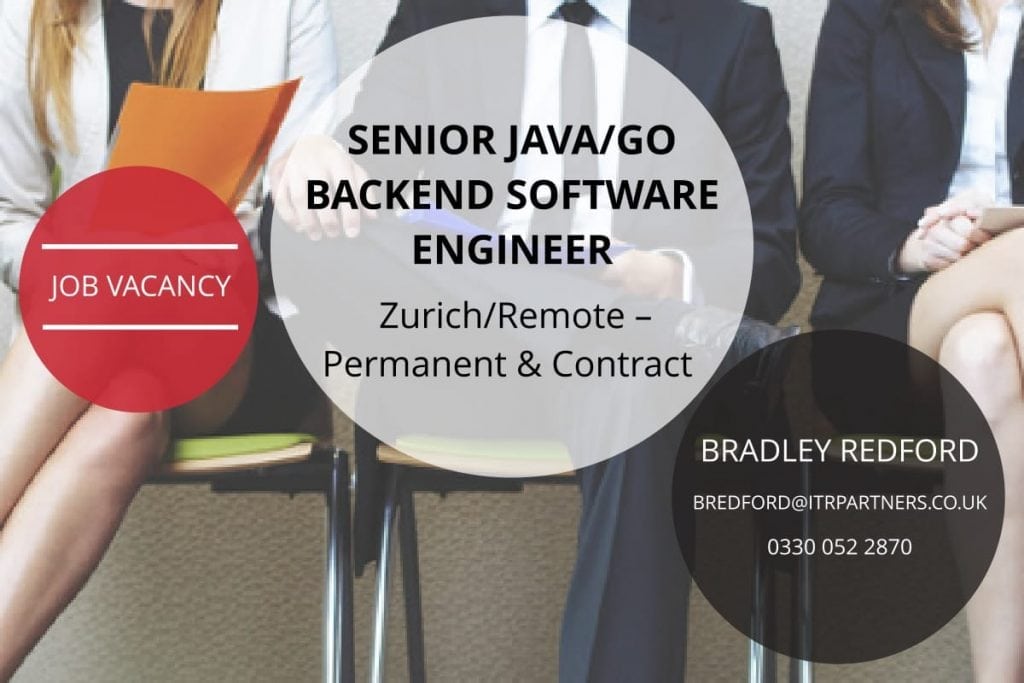 Technical Skills & Experience:
Solid background and experience in in building complex high volume distributed systems
Expert level knowledge of the Java programming language along with a good understanding and experience of the Go programming language
Well experienced with the Spring frameworks (Especially Springboot)
Familiarity of BigData technologies such as Kafka, Spark, Storm and Flink
Good exposure in microservices architecture and development
Well experienced with Relational (Oracle, PostgreSQL, MySQL) and noSQL (Couchbase, Cassandra) Databases
Solid understanding of gRPC and protocol buffers
Experience with encryption and cryptography standards
The roles are to be ideally based of the Zurich HQ, but there are remote working options available too for those unable to work from Zurich full time. However, you will be needed to be able to travel to Zurich for on-boarding and on occasions throughout projects (1-2 times per quarter). 
There are multiple permanent opportunities available, but due to urgent requirements of getting the project off the ground and running there is also multiple 6-month contract opportunities available.
There are fantastic salaries and rates on offer, but will vary depending on whether you are based from Zurich or Remote. 
To find out more please hit apply and I will be in touch with more information. Alternatively please give Bradley a call on 0330 052 2870.