Team Lead – Central London – Java, J2EE, Docker, Kubernetes, Google Cloud, Mircroservices, DevOps
You are a pioneer, a leader and a role model. You enjoy sharing knowledge and experience with your team and always strive to achieve greatness with use of modern development technologies and techniques.
I am looking to speak with talented Java development professionals who have a solid experience in leading teams and would the opportunity to build and grow a team around you and your knowledge and experience.
A leading gaming group based in the heart of London are looking for someone to champion best development practices with a talented development team and be the driving force behind future growth and recruitment. You will join an established and growing team as they look to expand even further, initially looking after a cross functional team of 7. As the team continues to grow you will head up the recruitment and build a team around yourself and what you believe is best way to move the team forward.
As a Team Lead you will still be a key hands on contributor to all development projects, expected to lead the team by example and ensure all agreed requirements and best practices are met.
Technical Experience: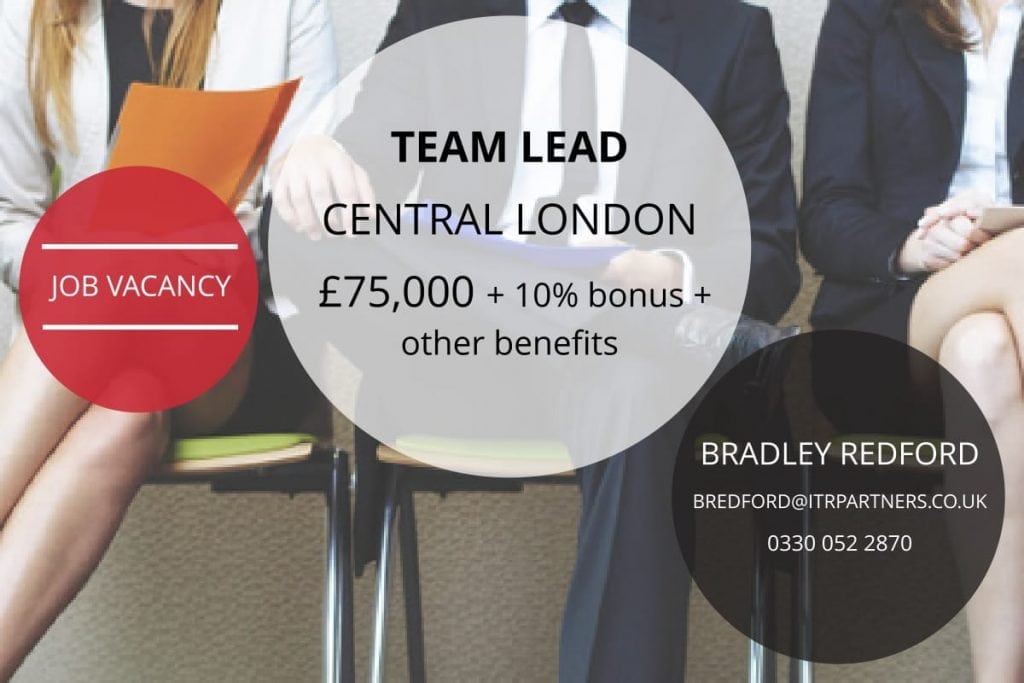 Solid background in Java and related frameworks (Spring, Springboot Hibernate etc.)
Familiar with a number of build and integration tools (Maven, Ant, Jenkins, Gradle etc.)
Experience working within microservices architecture (RESTful)
Familiar with using Docker and/or Kubernetes
Strong background developing APIs (Apigee API gateway)
Good understanding of cloud platforms (Ideally Google Cloud Platform)
Solid experience with DevOps tools and Technologies would be a bonus (Ansible, Puppet, Chef)
Up to date with the latest Development methodological and Techniques (Agile, TDD, PairProgramming)
Interested in hearing more?
Please press apply and I will be in touch with more information and a job specification. Alternatively, please feel free to give me a call on 0330 052 2870 if you have any immediate enquiries.
Permanent position based in London (Central)
£75,000 + 10% Bonus + Other benefits