When you think of futuristic technology, you might think of hover boards or robots that do everything for you. While we can't report have invented either of those just yet, we have hunted around online for some of the more futuristic home gadgets. So if you're into household tech or you're just really lazy, you'll probably want to check out this list of inventions that will make your life a lot easier/cooler.
1. Knocki – the device that turns any surface into a remote control
Knocki can turn any surface in your home into a remote control for your household devices. You can set the gadget so that when you knock on one particular surface, it will enable you to find your phone – and when you knock on another, it turns down the thermostat.
2. Scrubba – the bag that does your laundry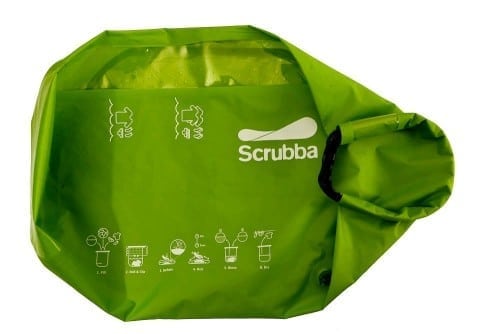 This lightweight bag uses the functions of a washboard to make a portable washing machine that allows you to wash your clothes at any time, in any place. At only 5ozs, the bag is the lightest and the smallest washing machine in the world.
3. Hapifork – the Bluetooth-enabled smart fork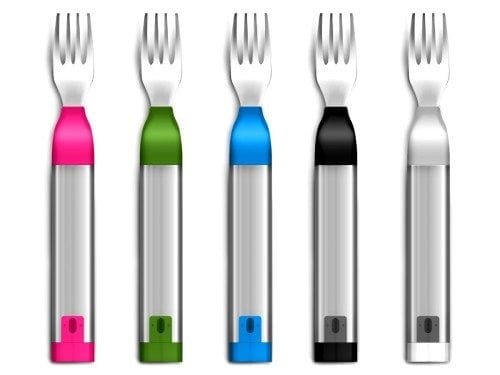 The aim of this fork is to create healthier eating habits. This fork will track your diet, and light up and vibrate to tell you you're eating too fast.
4. Somabar – the robotic bartender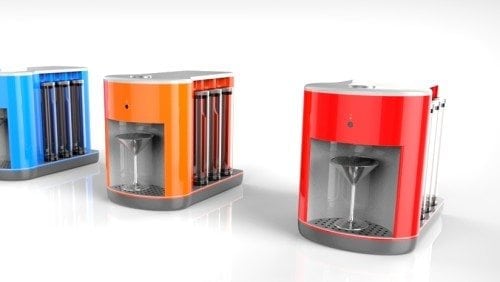 The app-controlled 'bartender' will mix you a personalised cocktail, based on your preferences. The cocktails are fully mixed before dispencing, and the system flushes itself after every drink in order to ensure every drink is pure.  The device is also small enough to fit on your worktop, then in your dishwasher afterwards to clean it up.
5. iBed – the tablet stand for bedtime use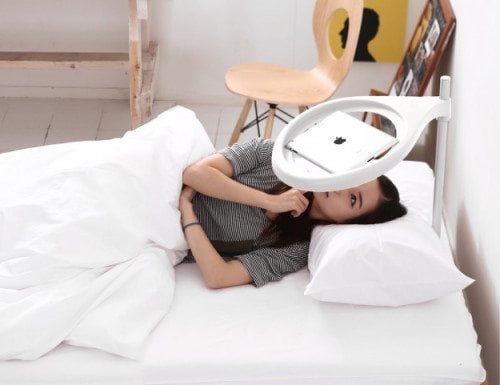 Ever find yourself lying in bed trying to use your tablet, only to get arm ache and/or drop your device on your face? LabC have invented a stand that will hold your device so that it suspended above you – no more aching arms, or facial injuries.
6. Evapolar – a mini-air-con unit for your desk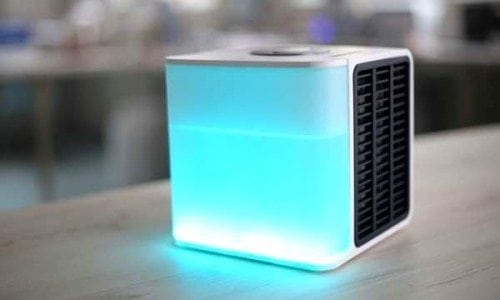 If you've ever been stuck in a hot office when the air con is broken, or in a stuffy flat with no air con at all, you'll know just how uncomfortable it can be. Evapolar has created a device that will be your savoir in such situations: a tiny air conditioner that will create a micro climate of cool, purified air within your immediate surroundings.
7. The Family Hub – the refrigerator that stores your grocery list and tells you when you're eating too much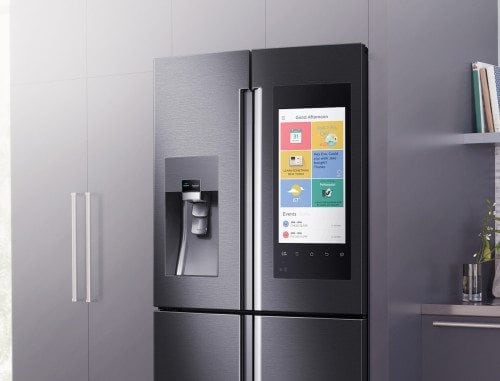 This refrigerator has three  built-in cameras inside which take pictures and let you know if you've run out of a particular foodstuff, or if a product has gone out of date. The information is send to a smartphone app, which allows the user to access the information from anywhere.  The fridge also allows the user to leave notes, and to monitors their food intake.
If you're looking for your next household gadget, then look no further.  Most of these gadgets are available on Amazon, or on the individual product website – and aren't as expensive as you might think!
Follow us for more updates