90 percent of the world's electronics are made in this south China city. You need to visit
There are plenty tech towns around the world, but Shenzhen stands out above them all. In the tech world at least, its district of Huaqiangbei is something of an urban legend.
Here in the town the iPhone is made by Foxconn (it's also home to Dell laptops, Microsoft PCs and Sony headphones, among millions of other products), just north of the crossing of Shennon Middle Road and Huaqiang Road in the southern China city of Shenzhen is the epicentre of global electronics.
It's where trends begin, ideas become real, and products get pumped out by the billions. You want a shop dedicated to 3D printers? Have three. A glimpse of the latest virtual reality glasses? Just look in every other store in the vast, labyrinthine floors of the SEG (pronounced 'sage') Electronics Plaza, which is dedicated to gadgetry of all kinds. It's easy to get to; it's on the green Luobao Line, but it's only open between 10am and 6pm.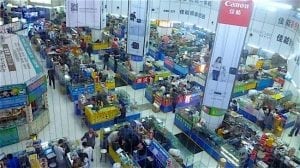 Street smarts
After the long ride from Hong Kong (OK, it's only 20 miles away, but it takes a few hours to get through immigration), the first glance of Huaqiangbei is nothing special. Down at street level are dozens of phone shops dedicated to Huawei, Xiaomi, Apple, Meizu and Samsung.
"There mustn't be any other stretch of road in the world with so many retail stores dedicated exclusively to the selling of mobile phones," says Ted Rule, author of Shenzhen: The Book, who's seen this mega-city rise from literally nothing in the 1970s.
Follow us for more updates