CEO Departures at its highest in 17 years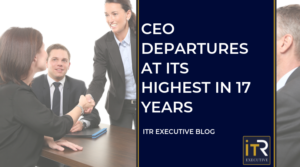 CEO Departures at its highest in 17 years, according to data from Chicago-headquartered business and executive coaching specialist  Challenger Gray & Christmas. With 18 CEOs announcing plans to leave across the City of London.
"So far this year, 1,160 chief executives have left their posts, 13% more than the 1,027 CEOs who left the top spot at companies through the third quarter last year. It is the highest total of CEO exits in the first nine months of a year since 2002."
Five leaders of British companies announced they are stepping down within days of each other. BP Plc CEO Bob Dudley and Tesco Plc CEO Dave Lewis, after years transforming and building up their companies. Also, others like Alison Cooper at Imperial Brands, stepping down because they didn't adapt to changing markets.
"There is no one smoking gun, it's just getting tougher at the top," Steve Clayton, a fund manager at Hargreaves Lansdown told Yahoo Finance UK.
AJ Bell calculated that the average time for FTSE 100 chief executive to stay in the role is 5.4 years, compared with 8.3 years in 2010. This could explain the rise in people leaving the role.
This means investors and fund managers now must get to grips with a high number of bosses at once. New bosses tend to have different plans and ideas about how the company runs.
"Industries with high CEO turnover in the first five months of this year included health care (66 CEO departures), technology (65), financial (58), and services (39).
By far the largest share of the changes was in the government/nonprofit sector (141 CEO departures)."
Check out our latest blog on How to create a gender balanced workplace
Follow us on LinkedIn for more career opportunities and recruitment tips!
Follow us for more updates