OSMO Action vs GoPro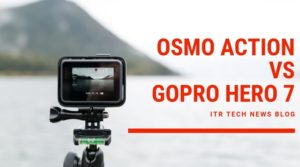 The Chinese company, DJI, has just launched a new action camera, Osmo Action. The new camera is looking like it could be a great threat to GoPro. There are quite a few similarities between the Osmo Action and Hero 7. But we wanted to find out which one users believe is better and if the new Osmo Action is going to dominate the market.
What are the similarities of the two products?
Last year GoPro made a great development of introducing the amazing image stabilisation on their GoPro Hero 7. Unfortunately for them, the Action has a very similar standard of image stabilisation and users are very impressed with the quality. Although most of the cameras standard features are very similar.
What new features does the Osmo have?
One of the best features is the new screw-on lens covers. It allows people to easily change the lenses for exciting filters or replacements. This feature is especially useful if you usually scratch the lens! Above all, the most popular feature has definitely been the front-facing camera with a coloured screen. It may not be the best quality but it does allow you to ensure you are in the shot whilst making your videos.
What about the pricing?
The price of the Osmo Adventure is cheaper than the Hero 7 which is a clear bonus. Currently none of the prices of their official accessories have been announced, but all of the GoPro accessories are compatible.
Are there any downfalls?
There are only a few downfalls for this new product. One being the microphone quality is slightly poor which is clearly not ideal for people are who are serious about making quality footage. Another being the still pictures are of a low quality, so for taking your own quick snaps your smartphone is still your best bet.
To sum it up
So far people have done loads of comparison tests between the Osmo Action and Hero 7, which are all proving that the cameras have very similar stabilisation and quality. But the front-facing camera is showing to be extremely popular with vloggers! Some people are saying they would like the live streaming feature that the GoPro has as well as the front-facing camera. But overall most people have said there is no clear winner between the cameras as they are so similar. So if you have one of these cameras already, you don't need rush to go buy the other one.
Will the Osmo Action be the new way forward in the vlogging industry? Let us know your thoughts…
For more tech news check out our blog on the Blue Moon Lunar Lander
Follow us for more updates