New IKEA and Sonos Speaker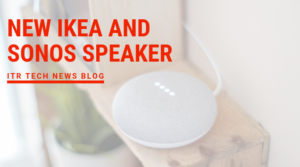 IKEA and Sonos have made a bookshelf speaker for £99. The new IKEA and Sonos speaker is combining the Sonos high quality speakers with IKEA's designs. There is also a Table Lamp speaker for £150. One of the main questions from users is concerning if the speaker will be of the same high standard as all other Sonos speakers.
Speaker
The new speaker is the cheapest Sonos multi-room component that you can currently get at the moment. You can still pair the speakers together, whether it is the Bookshelf and Table Lamp or you want to add in a normal Sonos speaker. It is supposedly just as easy to set up these new speakers as the normal Sonos speakers. As with other Sonos Speakers, these can be connected to Alexa or Google Assistant so you can control the speakers using your voice.
Design
The bookshelf is designed to go anywhere in your home. It fits in with certain IKEA storage and you can add brackets to make it into a shelf which can hold up to 3kg. It can be stood on it's side or lay down. So it doesn't need to be attached to the wall or be a fixed feature in your storage. Both speakers have physical speaker controls on them, so you don't have to only use the app for controls.
Sound Quality
For the sound quality, they are apparently great quality, but not quite as good as the regular Sonos products. The products are in both white or black, with simple buttons and a simple IKEA and Sonos tag. This makes the speakers look very simple and elegant so they can fit in with most interior designs.
What are your thoughts on the new Sonos and IKEA speakers?
Check out our latest blog on the New RHA Wireless Headphone Adaptor.
Follow us on LinkedIn for more tech news and job opportunities.
Follow us for more updates