The Best New Update For Sony's Wireless Earbuds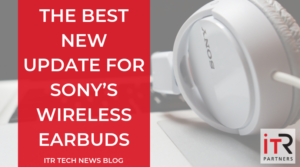 Sony had a great success when launching their WF-1000X headphones and latest updates have not disappointed. The new Sony WF-1000XM3 wireless in-ear headphones have got great new features such as being noise cancelling, having a longer battery life and you can choose the size.
Noise Cancelling
The most exciting feature of the new earbuds is the fact they are noise cancelling. Each ear bud has a pair of external microphones which detects noise and blocks it out for ambient noise. The user can choose whether they want to lower the background noise or fully cancel it out. There is a circular area for touch controls on the left ear to toggle between noise cancellation and ambient sound.
Longer Battery Life
Similar to most wireless earbuds, the Sony ones charge in their case. When having noise cancelling on the earbuds will have roughly 24 hours of battery life. Without noise cancellation there is roughly 32 hours of battery life. The earbuds are also held in magnetically which means they definitely charge each time.
Connection
A lot of wireless earbuds have issues with weak connections as the earbuds have to be connected via Bluetooth. However Sony have put in a chip that connects the two earbuds straight to the device. Users have reported very few connection issues, so the new technology is proving to work well.
The new earbuds are designed much smaller and users say that they fit comfortably in the ear. There is a choice of ear tips from small, medium and large to ensure they fit well for each person. The design is very sleek with a colour option of silver or black.
Have you tried Sony's new wireless earbuds?
Read out latest tech news blog on the New Facebook Currency- Libra!
Follow us on LinkedIn for more tech news and career opportunities.
Follow us for more updates