Tips for when your job search isn't working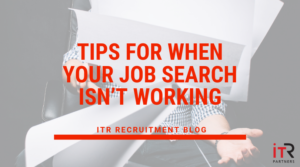 Consider Other Job Options
You may have always worked in one industry but that doesn't mean you need to stick to it. You can search for other job roles related to your industry or take the leap to changing industries. Way up your options, you may feel like you're taking a step back but in the long-term things might turn out for the better. If not, it is a great way to fill gaps in your CV and get a bit of money whilst you search for the right job.
Personal Branding
Your CV is normal the first thing an employer sees from you, thus making it one of the most important information you pass over. So, if your search isn't going well maybe reviewing your CV to make sure that it is selling your skills and you as a person.  You can read some of our tips in our previous blog, the best CV tips to stand out from the crowd.
Look for Jobs in the Right Places
There are so many ways you can hinder your job search, one of the simplest mistakes made is not using the right search terms. Blasting out your CV and applying for 100's of jobs can be two of the worst ways to job hunt. Try to reach out to the hiring manager or if you have mutual connections with people who work at the company, send them a quick message.
Make Job Search Connections
Having connections that want to help can make job searching less of a headache, a great place to get good connections is LinkedIn. As well as your connections, a good idea is to ask friends, family or colleagues for feedback and tips on your CV and your job search strategy.
Check out our latest recruitment blog on Getting the most out of your interview
Follow us on LinkedIn for more recruitment tips and job opportunities.
Follow us for more updates