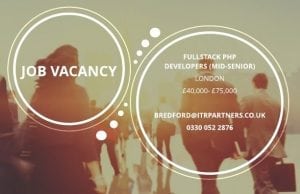 Fullstack PHP Developers (Mid- Senior) – PHP, Phalcon, SASS, Webpack, Gulp, Agile, Microservices, DevOps – Multiple Vacancies £40,000 – £75,000 
After you finish work do you go home and continue to embrace yourself in technology?  
Are you forever wanting to learn and grow as a development professional?  
Do you enjoy sharing knowledge and expertise with others?  
If you are someone who has a genuine love of technology and someone who always want to constantly improve this is definitely for you.  
Due to extensive growth over the past 12 months the UK's Leading Crypto Currency broker is looking to drastically increase its engineering team.  You will be part of its next phase of growth as they look to bring on another 20 fullstack developers to work on a number of in-house developed systems and high traffic consumer facing applications.  
You will be responsible for the design and development of new/existing internal systems and customer facing web applications, ensuring all code is tested and reviewed to the highest standards. Whilst working in a collaborative Agile development team you could be involved in some really exciting projects including BI Enterprise Solutions Suite, Crypto Currency Exchange platform, various web portfolio projects and AI/Robot project.  
What is required form you? 
Strong Experience with PHP and MVC frameworks (Phalcon, Symfony, Zend etc.). 
Solid experience with frontend tools and technologies such as SASS, Gulp/webpack/Grunt, HTML, JavaScript, ES6. 
Knowledge of MySQL and/or NoSQL Databases 
The ability to write clear, concise well documented code. 
Exposure to the full end to end development lifecycle. 
Familiar with Agile working environments. 
Keen willingness to learn and constantly improve. 
Enjoy working in a collaborative working environment.  
What would be beneficial for you?  
Knowledge and experience of using JavaScript Frameworks/Libraries such as ReactJS, VueJS, AureliaJS, AngularJS etc. 
Familiar with Microservices and CQRS Architecture. 
Experience of working in a DevOps environment and using tool such as Docker & Vagrant. 
Knowledge of trading platforms and exchanges 
Interested?  
Please hit apply and I will be in touch with more information and a job description. Alternatively feel free to call me on 01242 236 460 if you have any urgent queries.  
This is a permanent position based in central London (Zone1).  
There are multiple positions available for developers from mid – senior level.  
Salaries on offer £40,000 -£75,000