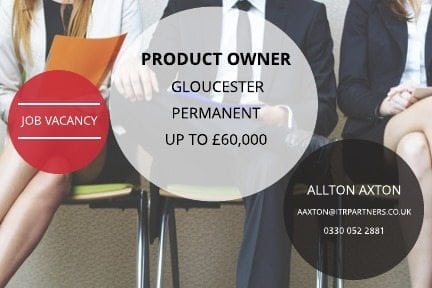 Product Owner – Product Manager, PO, Agile, Stakeholder Management, Product, Requirements Gathering, Digital, UX
Based in Gloucester – Paying up to £60,000
My client, a rapidly growing organisation based in Gloucester are currently recruiting for a Product Owner to join the team at an exciting time in their expansion.
Engaging with key clients on a regular basis, you will work with them to define requirements on bespoke software products. Advising the client where needed to ensure the product delivery is realistic and then managing the development team to ensure the product is to spec and the launch is on time. You will be responsible for prioritising workload as you will be managing different product life cycles simultaneously.
You will take an innovative approach to Product Management, thinking outside the box to set my client apart for their competitors. You will be a natural communicator, comfortable inspiring a room of engineers and senior executives when needed. You will facilitate workshops and be comfortable working within a changing environment and the problems that come with this.
The role will suit a dynamic individual who is confident working within a growing company. You will be an inspirational Product Owner and enjoy a challenge.
To hear more on the opportunity, please do not hesitate to get in touch (see below)