5 Tips on better video calls whilst working from home with Microsoft Teams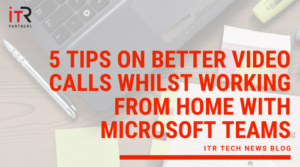 If you're lucky to have a job where you can work
remotely
, videoconferencing is a great tool. A great way to stay connected and keep on track your meetings.
That
being said
videoconferencing isn't always that easy. Here are some tips on how to make videoconferencing a breeze;
When you're collaborating with the team on projects video calls can be more efficient than an email. Think about your environment when on calls, go for a plain background. Try to avoid windows that could provide too much backlight. Also, a good tip if you have a laptop make sure it is on a stable surface. There's nothing more distracting than someone wobbling their screen every 5 minutes.
Your videoconference calls don't always have to
be scheduled
. If you start to write an email but realise it's too long, you can
just
instantly
set up a virtual meeting. There are many tools you can use to bring the team together.
We use Microsoft Teams – a great platform to video call, collaborate on files and integrate your calendars
.
3. Presenting. Sharing what you want
Don't you love that moment when you're sharing your screen and then,
suddenly
, everyone can read your email?
To make sure you only share what you want to share you can choose either one of your screens/ desktops or a window/ program to share
.
When presenting in Teams you are able to switch between layouts. Generally, when someone is sharing content it shows that.
You can switch between viewing the content and watching people in the room by clicking on the video you're interested in
. You can also pin the video/ presentation to show your this regardless of who's talking.
Remember that we are all humans and have lives outside of work.
Showing a little bit of the "real" life around you – Letting your kid wave to the camera or eating lunch you didn't have time for
. Showing a little bit of your life can help with work relationships and keep that bit of normality.
Follow us for more updates