68% of Gen Z want an employer who cares about Mental Wellbeing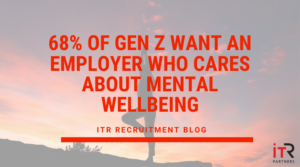 Employers that care about staff wellbeing is the top priority for 16-24-year olds. According to a recent survey by Employment 4 students. 7 in 10 prioritised mental wellbeing, as well as work-life balance (74%) and flexible working (72%).
The Youth Voice census repost shows that for 2 in 10 young people mental health is one of the biggest obstacles to entering the workforce. Childline revealed that it delivered 24,447 counselling sessions for young people. A quarter increase over the last 3 years.
The survey also showed what other factors of a job advert would attract Gen Z applicants;

Practical over inspiration information
53% said they wouldn't apply for the job if the salary wasn't stated. The phrase 'competitive salary' made the organisation seem less honest. The survey also found young people are often frustrated with the lack of practical information on job descriptions.
Practical information such as working hours and location is vital for a Gen Z to apply. In addition, 64% said they wouldn't apply if a location was missing. Preferring this practical information over inspiring information about the role and organisation.
Bring the role to life
For young people, there is a hiring desire to be able to imagine themselves in a role. In addition to understanding what a typical day will look like.
Gen Z is looking for a different kind of job advertising, they want overviews of main duties in an interesting way not just a repetitive list of tasks. They want videos (74% said interviews with current employees were useful) and as well as images of the working environment. Job adverts need to be visual and easy to digest. They are not interested in waffly statements about corporate values.
Don't forget the fun factor
A big proportion of respondents said their benefits would come second if they are able to work for a brand they loved and was passionate about. In addition for Gen Z, an employer needs to be fun, innovative and ethical. In conclusion, smaller companies can compete with the much larger ones by showing how they care for their staff and align with Gen Z values.
"There are quite a few practical takeaways here for employers that will help to attract young people", says Chris Eccles, co-director at E4S. "Recruiters need to show how they boost employee wellbeing, bring roles to life through engaging visuals and video, and never leave out essential information!"
Follow us on LinkedIn for more career opportunities and recruitment tips!
Follow us for more updates