Finding Your First Executive Level Job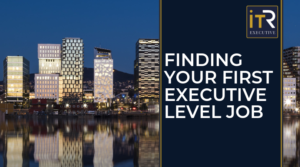 Finding your first executive level job can be daunting and confusing to know where to start. You might be ready to take the leap to have more responsibility, but you might not know how to find a job that allows that. We have put together a few tips to help you to find your first executive level job.
CV
When trying to progress in your career, the first thing you will want to do is update your CV. If you haven't updated your CV in a while, you will definitely want to add in all your new skills and experiences. You will want to tailor your CV to prove you have great managerial skills, can lead and motivate a team, have great communication skills and are strong at decision making.
Finding Opportunities
Start looking for the type of senior roles you are looking for. See if you have the experience they require on the job description. If you don't, find a way of getting that experience and maybe progressing in your current role to have more responsibilities. Try to find companies or recruitment agencies who are looking for executive level candidates. These will be the places where there are the most opportunities.
Internal Opportunities
This is a great place to start looking for your first executive level job. You are probably already settled into your company and it is easier to develop your skills in your current company. If there is a vacancy for a senior role, apply for it or discuss with your managers how you could progress into a senior role. If you are progressing your career in your company, they might be happy to help you take that next step.
Recruitment Agencies
Recruitment agencies can be great at understanding your skill set and seeing what kind of roles you would fit into. They can find the right role for you, which is great if you don't know where to start your job search.
How do you prepare for a new job search?
Check out our latest blog on Executive Level Interview Questions!
Follow us on LinkedIn for more executive level job opportunities and recruitment tips.
Follow us for more updates