How To Use LinkedIn To Find Your Dream Job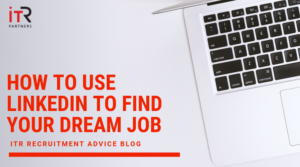 Whether it is companies posting jobs or recruiters looking for perfect candidates, LinkedIn is a great place to find your dream job. As the best professional social networking site, LinkedIn has plenty of job opportunities. However, with so many job opportunities finding your dream job on there might be slightly difficult. We have a few tips to help you to use LinkedIn to find your dream job!
Follow Companies
Following companies that interest you is a great idea to find your dream job through LinkedIn. Companies typically post their job adverts on LinkedIn. Or they will post an update when there are new jobs on their website. Not only will following companies that interest you help you to see potential job opportunities, but it will also keep you up to date with industry news.
Updating Skills
People can find you easier if you are always updating your page with the relevant skills you have. Also your skills will then match up to desired skills on job descriptions which makes searching for a job even easier. There are so many skills that you can choose from, so make sure you have put down everything you can do!
LinkedIn Groups
The groups on LinkedIn are a great way to search for your dream job. They might be set up by a company that interests you or might be for people like you, looking for similar jobs. Either way it is a great way to see job posts or find out who is recruiting.
Search Options
When searching for a job, you can change the advanced search settings. You can search for the job title, area, date posted, the industry, experience level, job type and so much more. So, you really can tailor your search to find your dream job!
There are so many jobs posted or companies updating their current opportunities on LinkedIn. So make the most of the social network and have a look for your dream job.
Check out our latest blog on 20 common interview questions to prepare for.
Follow us on LinkedIn for more recruitment advice and job opportunities!
Follow us for more updates