Microsoft Teams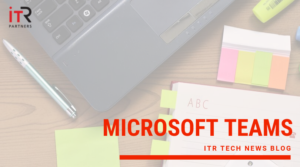 Here at ITR Partners we always need to connect with one another, but emails tend to get lost with the hundreds we receive. With the new chat and collaboration features in Microsoft Teams, it allows us to communicate all in one place, without clogging up our emails. The new chat feature has the ability to cross-post messages across multiple channels. You can communicate with different teams without having to visit them all individually.
Another new feature is that you can filter through chats. You can filter through one-to-one chats, meetings, team channels and more. You can even add your own filter, for example, unread messages. This feature allows you to be more specific with what you see, a great way to cancel out noise when you're working on a project.
This new feature is for teams, adding a secondary ringer option. It allows people wearing headsets to hear incoming calls on their computers. Some other features are making calls from the Chrome browser, reverse number lookup, and enhanced Cloud voicemail.
Lastly, enhancements to the meeting experience adding the ability to pin a meeting participant. This feature allows you to create a custom view of the meeting participants. Also, you now will receive a notification if you have missed being added to a meeting. Finally, with the light-weight meeting capabilities people using Internet Explorer Safari, or Firefox will find it easier.
These enhancements show that Microsoft is working to make Teams great and making it better than its competitor.
Check out our latest blog on the Pixel 4 Leaked Specs
Follow us on LinkedIn for more tech news and job opportunities.
Follow us for more updates