Career Spotlight Interview- Cameron Brady-  Software Development Recruitment Consultant
Cameron is one of our newest starters here at ITR and we are so excited for him to be working with us! We have done a short interview with him about what his new job role is like. He is one of our recruitment consultants and is specialising in back-end software development. So if you're interested in a job role in software development be sure to get in contact with Cameron.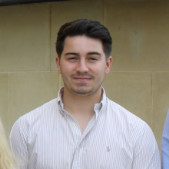 Name: Cameron Brady
Job Role: Recruitment Consultant– specialising in back-end software development
Why did you choose recruitment?
There is always a great team environment in the office and I love the competitive market. But above all, I really like the sales aspect of the job and the social side of being able to interact with the new people daily.
Any advice for candidates looking for work?
Never be afraid to ask questions.
Any advice for a client looking for new employees?
Don't hire candidates purely off a job description. Because sometimes the best candidates are not always the ones who are perfect according to the job description, but are willing to work harder and offer more to the business.
Best part of your job?
Meeting and speaking to new people everyday!
Stay tuned for more career spotlight interviews…
Follow us for more updates