Knowing your value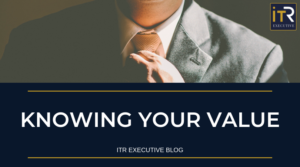 Knowing your value early on means you won't apply for jobs that won't meet your requirements, assures the organisation values you and gives you the confidence to negotiate salary. Here's a good place to start;
Financial requirements
Calculating your compensation package, this will include basic salary, benefits and any bonuses. What are your financial needs you need to cover with your base salary? If you are moving what other cost do you need to consider, and will your new base salary cover this? Lastly, are there any benefits that you rely on? Such as health care or child care/benefits. What extra will this cost if you were not to receive the benefits.
Your rate
Having a guideline from calculating your compensation package can help you compare to other roles. What skills, experience and proficiency are needed in your specific industry. Does your currency salary compare with this? Are you being under or over-paid?
Here is some place that can help you get an understanding of what you could expect:
You will have a better understanding when you have factored in your industry and location, as the salary and expectations can vary.
Industry
Some things you should consider when weighing up your industry, is it expanding or declining? Are there high demands? Is your current salary inline?
Some businesses even in the same sector will pay more, this is usually affected by whether there is a restricted skill and/or experience, making hiring managers to increase the pay rate.
Location
Your location can affect salary as it takes in consideration the cost-of-living in that location, for example someone in London will be paying significantly more than someone in Cheltenham, the salary should reflect this.
Some other things to think about, are you prepared to travel? How long? And/ or are you willing to relocate?
These questions can help you figure out whether the job is right for you and help you to calculate your compensation requirements. Also, it's always best to ask whether some of these costs will be provided by the company, as some will pay for relocation or travel costs.
Summary
If you have done the steps above, you should have a better understanding of your compensation package; one that will provide you with financial what you need without reducing your worth.
Check out our latest blog on starting you executive search
Follow us on LinkedIn for more career opportunities and recruitment tips!
Follow us for more updates