Getting the most out of your interview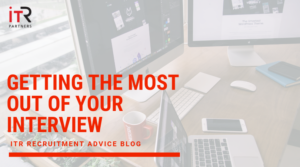 It is easy for candidates to get caught up worrying when prepping for an interview, but it is a two-way conversation and you need to find out information to help with your decision. To get the most out of your job interview, you need to think about what you want to find out about the company. So make sure you make the most out of your chance to speak to someone inside the business.
Typically interviewers will allow some time at the end of the interview for you to ask your own questions. This is a great opportunity to understand more about the role and if it is the right fit for you. Find out about why the position is available, this will give you an idea if you want to take on the role. If you are having multiple interviews it is good to understand all of the roles thoroughly, so you can make an informed decision when the time comes.
Company Culture
Not only do you want to find out about the role, but find out about the company as well. What kind of perks do they offer employees? What is it like to work in the company? How can you progress in the company? Research the company then come up with some questions that will help you to understand what working there might be like.
Feedback
After the interview, it is a great idea to ask for feedback. Especially if you didn't get the role, find out why and how you could improve for your next interview. It is easy to say you don't want feedback as you don't want to know what went wrong, but if a company is offering it then definitely say yes to feedback!
With these few tips, you should be able to make the most of out of your interview. Hopefully, you will leave the interview knowing if you will fit in with the company and like the position. How do you make sure you get the most out of your interview?
Check out our latest recruitment blog on the best tips to prepare for a video interview.
Follow us on LinkedIn for more recruitment tips and job opportunities.
Follow us for more updates