The Best CV Tips To Stand Out From The Crowd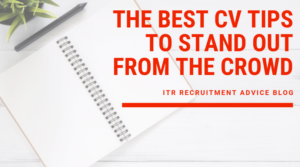 In a crowded job market, it is crucial that your CV stands out, showcases your skill set and gets you through to the next stage of the recruitment process. Here are our top CV tips to ensure your CV stands out from the crowd!
Customise your CV for the position
You don't need to rewrite your CV for each job you apply for. But every time you send it off tailor it slightly to the specific role. Read through the job description to ensure you are using the same terminology that is used. Check that you showing you have the relevant experience for the role.
Keep it simple
It doesn't need to be a long essay of all the work you have done in your life. It needs to be concise, about the relevant skills you have for the job and prove that you are unique. Make sure you are addressing what they are looking for in the job description. Try to avoid writing information that isn't relevant, you only have a small space to sell yourself so make sure it counts!
Presentation
Within seconds the recruiter will have made decisions about your CV based on the presentation, length and the first few opening lines. So make sure it is neat, concise and there is logic to the layout. Try to avoid pictures and diagrams unless they are really necessary.
Show your achievements
It is easy to get carried away writing pages of all your responsibilities and listing your history of work. So instead try to highlight all your achievements and key points in your career that will make you stand out from other candidates.
Does your LinkedIn compliment your CV?
It is highly likely that the recruiter looking at your CV will also look at your social media platforms, so check that your LinkedIn is in line with what you have said on your CV. You also get a chance on LinkedIn to prove yourself with more than 2 pages, so take advantage of this and show all your best qualities and achievements on your LinkedIn as well!
These top CV tips should help you to get the interview that you want!
Check out our job pages for more information on the jobs we are currently recruiting for and how to apply.
See our latest recruitment advice blog on interview tips to make a great first impression.
Follow us for more updates